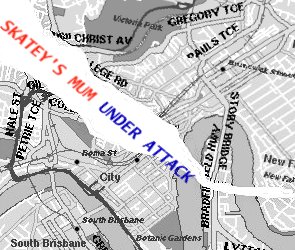 Stocks Fall
Scared investors sent stocks reeling today as Wickham Street (home of the Valley Stock Exchange) resumed trading after its longest shutdown since the Great Depression. The DOWn on JONES' mum industrial average set a new record for a one-day point drop and closed below the critical point of 69 for the first time in recorded history.
In the smoky shadow of the Valley carnage, stock prices nosedived but stopped just short of collapse today in an emotional, flag-waving reopening of Wickham Street. A huge flag of the SMUR was placed over the front of the VSE just before opening, with 2 minutes of silence followed by the singing of "God Bless Your Mum" before the ringing of the morning bell.


The Search for Concerned Son
In the aftermath of the tragic events of 12 September police are piecing together the evidence on the trail of Concerned Son. Numerous reports of a "Blue Guy with a question mark on his head" have been streaming in. The latest leads indicate that he is hiding out somewhere in the valley, but police are finding it difficult to impregnate the NCM stronghold. Spokespeople for the NCM have denied these claims, but Skatey's Mum forces continue to gather South of Adelaide street.

Brisbane Torn in hatred over Skatey's Mum
In an event that may stay in our hearts forever, the date Wednesday September 12 2001 will be always remebered as the day Editorials attacked freedom. In a surprise attack Concerned Son sent a shocking letter to the Bahrain Tribune belittling Skatey's Mum sending Brisbane into turmoil. Only hours after this letter people from the Valley and Brisbane stayed shocked, glued to their televisions watching in despair as Mums all over Brisbane were attacked in response to this horrific attack. In the first day alone 100 Mums were either killed or injured in the line of duty. Now Brisbane is preparing for civil war as the Skatey's Mum fanatics arm theirselves preparing for the worst. This is a brief description of the events that unfolded afterwards.
Timeline of events: (Bahrain Standard Time)

8:34 am: Concerned son sends letter
9:12 am: National Coalition of Mums (NCM) hold anti-Skatey's Mums meetings
9:30 am: Police report high level of anti-mum violence
10:30 am: Police can do nothing but watch as mum violence escalates
11:05 am: Natioanl Guard called, and involved in numerous skirmishes with civilians.
12:00 pm: After regrouping NCM sends a force of crack SWAT mums into the area.
12:12 pm: Skateys mum escapes on Skatey's Mum 1
till today: Skatey's mum forces and NCM in brutal street corner battles.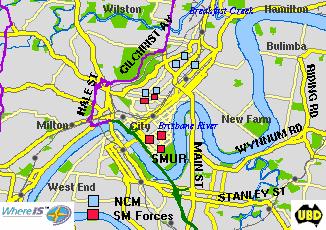 Since these events Mum's have been afraid to leave their homes for work and Brisbane aims its anger for Concerned Son at the hard working Mums. We can only pray that this madness will stop soon.

Weather
Bahrain will be experiencing some nasty weather today because as you can see the little pointy bits have defied any sort of physics and have decided to team up on it. This will result in general mayhems especially if you get caught in this circle of death. I don't know what the Bahrainians did to piss off whatever deity is controlling this but I suggest whatever religion I'd start some human sacrificing around the clock. Rainy Periods 23 degrees.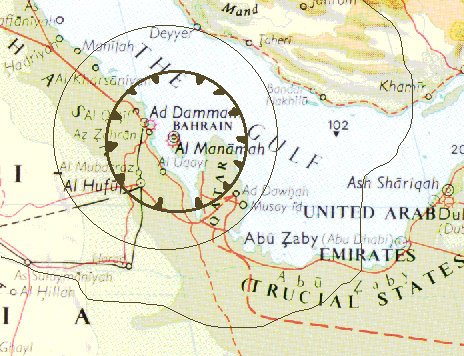 In Australia the weather should be fine due to the pointy bits heading up to Bahrain. If I was In Bahrain right now I'd be praying big time hoping for some of those rounded things to break up this cesspool of pointy bit orgies above their skies. Warm 27.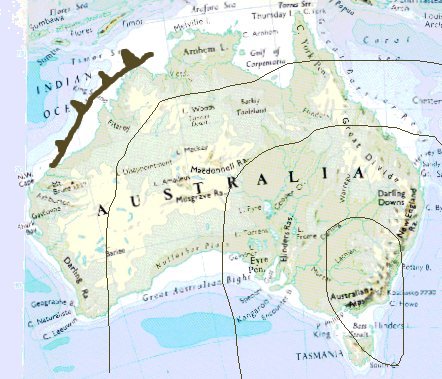 Editorial


Deep thoughts from Skatey :
Really how gay are Gee I'm Huge's pants, and for that matter all of his clothing attire. That was the question that I asked myself on a regular basis. From his $60 designer singlets to his $300 spandex pants, his whole collection is overpriced and just plan old fruity.


From the Brain of J.J.J. jnr J Smurf : As my first editorial column I really wanted to make this a special thing but because of unpleasantness I really can't be fudged doing anything special. The first thing I want to get off my chest is the fact that I really hate Volvo Drivers. On my way to our Bahrain offices this morning, I was cut off by a Volvo dickhead who proceeded to drive at a really slow, piss-me-off pace and then suddenly make a right angle turn without any indication. Fuck I hate Volvo drivers. Ever since my first incantation with a Volvo driver who tried to attack me with his walking stick yep that's right a fucking walking stick. I just ended up running him down in my car, which the old prick just jumped off the road and I nicked him in the leg, still funny none the less.


Straight out of my coight- Brainy's perspective: My first editorial goes out to all the people with pants. You see when I was young I can remember the day that I was introduced to pants. My mum said If you promise not to crap yourself you can wear pants. I got to wear them anyway. Ever since then I've enjoyed my pants. If it wasn't for pants who knows what would have happened. So I say next time you wear pants, take a moment to appreciate what they've done for you and your family. Also I think every year on the third week in September it should be pants week.

Leahy's View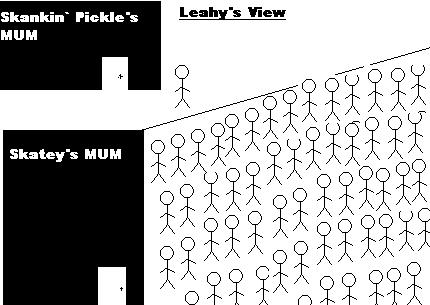 Now for letters from our readers :
Skatey's Mum's Monopoly
Dear Editor,
I'm writing in because I am very concerned about the Valley's workforce. The Valley provides a work place for hundreds of our mums, but it's becoming very obvious that skatey's mum with her low prices and long working hours is taking all of the business. In 1985 she had only a small fraction of the market, about five to six percent, then when the mum industry was deregulated in 1996 she gained an extra ten percent in one year. It was estimated at the start of the financial year she had up to 69 percent of the total valley market. Due the deregulation of the mum industry many mums have been forced out of a job or even worse, started to work in Woodridge. I've even heard of one mother who had to set up in the streets of Ipswich, believed to be Jerry's mum. I can't believe that the government would allow this to happen to our mums.
From
Concerned Son
Via email (13/9)
Big Business Boom for Aussies

Dear Editor,
In reply to Concerned Son's letter (13/9) I am appalled at the lack of respect he is showing to this Brisbane institution. Since I was a boy Skatey's Mum has been offering high quality at low low prices. The reason why she has succeeded so well in this Dog eat Dog business is because she is the best. If other Mum's put the time and effort into their craft they would be sharing the spoils of a now flourishing market. Perhaps Concerned your Mum should take a leaf out of Skatey's Mum's book and apply herself and win her own fortune through sound financial and physical management, rather than slacking off and relying on outdated government policies.
I for one have Skatey's Mum high on my list as one of the most important assets this state can provide. Through tourism alone she injects millions into the starving Valley economy, and puts the Valley on the world scene. Do you really think that Brisbane could have snared the Goodwill Games and CHOGM without the incentive of some sweet, sweet loving with the best the world has to offer. Of course not. Also the Skatey's Mum University of Rooties helps young men and women who have nowhere else to turn to find dignity, self confidence and a stable income doing what they do best, in these harsh economic times. You also seem to forget the thousands of dollars everyday Queenslanders made when the Skatey's Mum Corp
went public on the stock market.
Concerned, in your letter you are forgetting what a priceless part of our life Skatey's mum really is, and I know I'm speaking for all of Queensland when I say that your letter is "Un-Australian". Im going now to enjoy the cream of Queenslands finest.
From
Skatey's Mum forever
Via email (14/9)
Skatey's Mum's Work Ethics
Dear Editor
In reply to Skatey's Mum Forever (14/9), I would like to say that Skatey's Mum is a valuable resource for our great city, but at what cost. I myself have been very satisfied by her high quality work and her unbelievable low prices on many different occasions, however she may have 'high quality work,' but where are her high quality work ethic. I can understand that there are a lot of mums out there who don't even deserve a corner on the Cross (Kings). Just the other week when I was in the line for Skatey's Mum I realized I didn't have time to wait an hour and half, so I went to Skankin Pickle's Mum two blocks down and I was shocked and disgusted at the condition of service I was given. With this point aside there are still a lot of good mums out there who just need a start.
For any new mum starting out there is only one place she can possibly get some experience before being thrown into now savage world of mums and that the SMUR. At SMUR all the best students are offered scholarships, which require the students to take a working position at Skatey's Mum PTY LTD on completion of their degree. This in its self means that Skatey's Mum PTY LTD will have all the best asset and small companies will not be able to compete.
These days mining companies are required to not destroy the area of land they are working in or at least re-vegetate the area when finished, similarly I believe that Skatey's mum should also do something to fix the valley which she has greedily taken so much from.
From
Concerned Son
Via email (14/9)


Dear Editor
This is not so much a statement about a major issue such as Skatey's Mum, but more of a question to put to your loyal readers.
Is it true that people in the Middle East (or Centre East as the French say) put the towels on there heads because they are to lazy to dry their hair when they get out of the shower?
From
Answers needed
Via the Interslice (14/9)
Brainy's Mum Backs NCM
Dear Editor
I think it is good to see that if the government wont do anything to help save our mums, that the people of our great city are willing to stand up for what is right. Yes, I believe we have a war on our hands, a war that many people and I are prepared to fight and we WILL WIN! The National Coalition of Mums is the about the only organization with its head screwed on properly and has our best interest in mind. After the path of destruction Skatey's Mum has left throughout the valley during her reign of terror, I have no sympathy for her and her band of followers.
I feel that the NCM, which is headed by Brainy's Mum, has enough backing; publicly and financially to find and take down the vileness of Skatey's mum and all she represents. Over the past six days I have been working "very closely" with Brainy's Mum, who continuously shows that she has what it takes to run a well planed operation to overturn Skatey's mum and was heard to say 'We will hunt down Skatey's Mum and bring justice to her and any body who harbours her.'
As Skatey's Mum goes into hiding, we will not. We will not stand aside and watch our beautiful city be destroyed by the wrath of Skatey's Mum. 'She can take our lives, but she can never take our Street Corners!' – Brainy's Mum (2001)
From
Concerned Son
Via email (15/9).