Lil' G-Do
The endering battle of one man to replace his 1988 Mitsubishi Magna initiates
"Project Yellow Car"
This is my pride and joy. I'll paste more pics when Skatey the fat Dyke can get the fucking camera.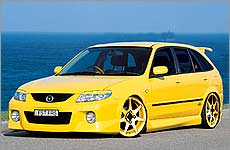 This is just a borrowed picture, you can tell it's not my Gdo because the genuine Gdo has an official "Bonesie*" in it.
Yep, this is my ride it's exactly the same as the picture except i don't have those monster 19" rims (nor do i want them). You might have seen me fanging through the dark depths of the south side listing to the wicked beats of the Wiggles, or just cruising around for bitches although none of those dirty whores can sit in Gdo unless it's Jerry Smurf's mum cos she's one choice piece of ass (I should know from experience). Yup, Gdo is a suitable replacement for my old ride "Betsy**".
When I was forced to get rid of Betsy** because of certain unpleasantness, I thought 'Fuck what can replace my faithful work horse Betsy**?'
Fortunately I was lucky enough to encounter a special rare 2001 Mazda Astina Sp20 at about five different Mazda dealers. Most of them thought I was just a jerk-off with no money because I'm eighteen and I dress like a bum, like the fuck-wits at Eager's Mazda who wouldn't even give me a test drive, and the Fucking Numb Nuts at City Automotive Group who literally told me to fuck off and come back next year. But I fucking showed those dick, fuck, fuck faces......fucking cuntasses and went out and plonked 30 grand into the hands of the good people at South City Mazda, although they fucked me around after I paid the deposit and it took them two fucking months to get the goddam car. But thankfully the day arrived when Lil' Gdo was placed in my sweet, caring hands.
As soon as I got the car it was straight off to Ian Diffin's where Gdo got a set of lowered kings at each corner which brought her down by a respectable 35mm. At the same time the eyelids were put on courtesy of The Sticker Bitch down on Moss St. The Razo pedals were the next on followed by a 2.25" manderal exhaust system from the base of the manifold back which got old Gdo growling like Scrotum Smurf's mum in heat. A couple of weeks later the rims were taken to the local powdercoater to get some white powdercoat on to give Gdo the "Drift-Master Zero Jap racer look". And that's pretty much the story of Lil' Gdo up to a few days ago. Be sure to check back soon as Gdo will be running the Quarter mile next week and maybe a sprint run next month. Uni-chip and nitrous are next on the shopping List.
STOP THE PRESSES! OK START THE PRESSES!
Just an update I went and did the quarter and Gdo did do pretty dismal so, right now shes got turbo plans in the pipeworks. Rough ideas include running A Mitsubishi Tdo5 turbo from a 'Rex or Evo to about 8pi boost through an intercooler and such, and hopefully getting down to about 110kW-120kW@the wheels and hopefully getting me 14s down the 1/4!
Also Gdo's back after a bit of panal work after an asshole, CUNT reversed into my door, If you're out there Griffin's meat Delivery Boy, the next time I see you I'll rip you're nuts off dip them in hot wax and feed them to you

SUS Facts

Project Yellow Car

Car: 2001 "Sunburst Yellow" Mazda Astina Sp20 aka Gdo

Owner: Joey Jo-Jo Jnr Jeremiah Shabobadoo Smurf

Engine and accesories: Mazda 2.0 Fs series engine with pistons and stuff, fucking expensive cold air setup with O2 Rush turbo pod filter

Body: Aerodynamically placed stone chip on the front bar and a down force master zero

Brakes and SUSpension: PYellow painted calipers too make me stop faster, Yellow Kingies all around

Rolling Wheels and Stuff:White 16" Mazda rims dressed with low profile Yoko Advans

Interior Gadgetry: A one of a kind genuine "Bonesie" finished in radioactive green, shiny Razo Pedals that aren't so shiny now, and i'm planning a full, sic, Phat air freshener install, stay tuned for full photo spread of the air freshener, coming soon.

Stereo: No Doof Doofing Yet as Gdo needs to be quicker first

Future Mods and events and stuff: Mazdaspeed Fs-Ze spec rebuild planned, but uni-chip first, NOS and air freshner are top of the list, Running at the test'n'tune next week at Willowbank and maybe a sprint run next month. until then keep watching the skis.

Special Thanks: I'd Like to thank the academy, Greg's Mum (I couldn't have done it without her poon), of course special thanks goes out to the TV and of course Bonsie, we did it baby WOOOOOOOOOOOO.

Please Note - Cars are fucking expensive toys and if I had know Gdo would be costing so much I would have just gone out and bought a horse. As advice too anyone thinking about cars save your time and money cos you better check yourself before you wreck yourself.


*Note Pics are coming soon as soon as Skatey the fat dyke can get off his drunken ass and get the fucking camera.....

*Offical Bonesie Page is on the way.....

**Official Betsy tribute Page is on the way, which includes bios, stories and more.....